keyboard_arrow_right
Signage Company Lanarkshire
BannerKwik is the leading provider of printing in Lanarkshire and the surrounding areas. As an experienced signage company, specialising in bespoke vehicle graphics in Lanarkshire, we can resolve any of your bespoke printing requirements. Whether you're looking for bespoke vehicle wraps, advertising banners, safety signs or any other printing services, we are here for you.
Printing
Lanarkshire
At BannerKwik, we are proud to offer a complete range of printing services across Lanarkshire and the surrounding areas. We are your one-stop shop for all your printing needs, from signage printing to vehicle decals. Our experienced, friendly team have access to a wide range of industry-leading equipment. That means we can quickly print extremely high-quality products that match your exact specifications.
If you're looking for specialist printing services in Lanarkshire, don't hesitate to get in touch today! You can call our local team directly on 0141 530 4506 to talk to our printing experts today. We offer high-resolution printing with an extremely fast turnaround and an unbeatable quality.
As part of our graphic design and printing services, we can provide: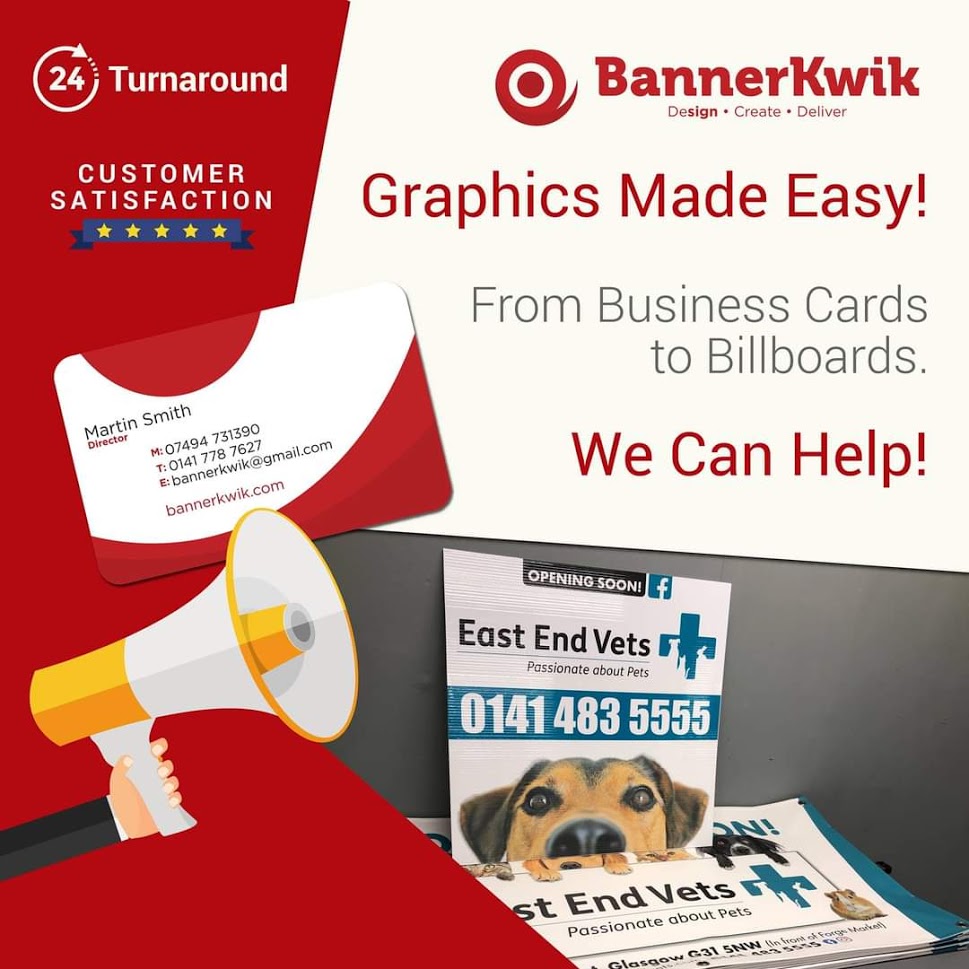 Signage Printing

Lanarkshire
Over the years, the BannerKwik team has printed a diverse range of bespoke signs for companies across Lanarkshire. Our high-quality signs feature vibrant colours, high levels of clarity and long-term durability. Just some of the signage printing services we offer include:
Correx Sign Printing.
Foamex Sign Printing.
Dibond Sign Printing.
Outdoor Sign Printing.
Indoor Sign Printing.
Hoarding Board Printing.
Health & Safety Sign Printing.
Social Distancing Signage Printing.
For more information on our sign printing services in Lanarkshire, don't hesitate to get in touch today!
All of our products can be completely customised to your requirements, whether it's matching brand colours or creating custom designs, messages, sizes or shapes.
Just ask!