keyboard_arrow_right
keyboard_arrow_right
Health and safety signs in Glasgow are essential in workplace settings to comply with law and legislations.  Here at BannerKwik, we're able to keep your business and employees safe with our readily available signs that we offer across various sectors.  We offer same-day printing on all safety signage as we understand this is urgent.  For more information or to place your order today, please get in touch with us on 0141 778 7627!
Safety Signs
Glasgow
BannerKwik are able to manufacture and deliver safety signs for health & safety, fire warnings, first aid, STOP signs and much more.  There are four types of safety signs that many businesses and organisations must meet.  These include Prohibition & fire, mandatory, caution and safe condition. 
Whatever your industry sector and reason you need safety signs, we have solutions for all and our signs can be used both indoors and outdoors. 
Over the last 10 years, we've been providing exactly they types of signs for the following industries and businesses:
Retail.

Transport.

Construction.

Public sector.

And many more!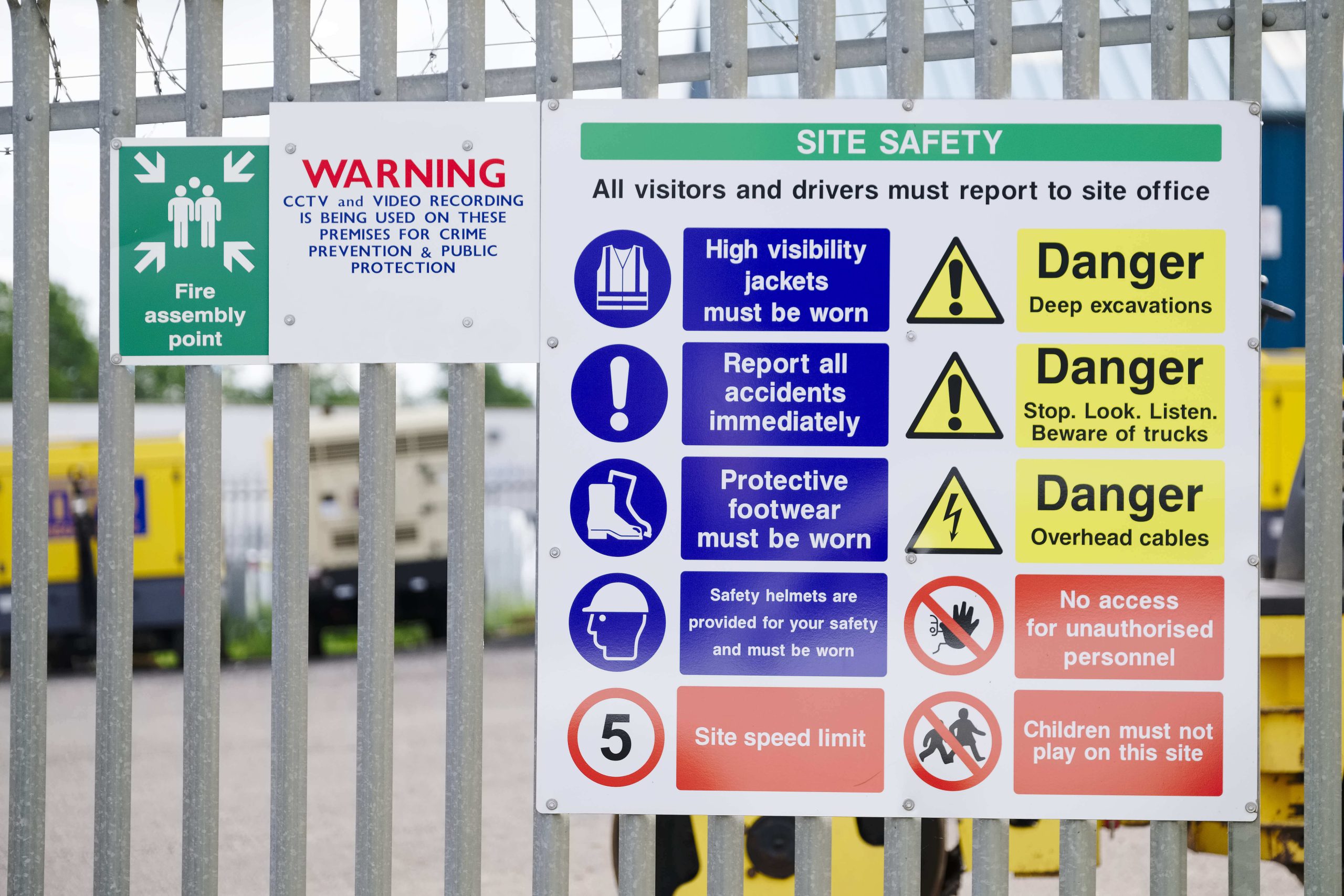 Trade & Public

Safety Signs
BannerKwik are able to sell to both trade and the public when it comes to safety signs in Glasgow and across Scotland.  We manufacture our in-house safety signs that are designed to meet local and government regulations, as well as the HSE (Health & Safety at Work Regulations).  We offer a large choice of safety signs in Glasgow that cover every type you can imagine.  Whether you're looking for readily available signs to be printed as soon as possible or you want to delay the delivery, we can cater to your specific needs and requirements.  All our safety signs can be customised to suit the exact text that you need for your organisation too.
Creating printable construction signs allows your business to create safe sites where our health and safety signs or warning signs provide information and display quality with professionalism.
Other types if safety signs we can print on-demand include:
Evacuation signs.

Hot water signs.

Fragile roof signs.

Wet floor signs.

Food hygiene signs.

Machinery signs.

PPE signs.

Deluxe signs.

Stock management signs.

Garage signs.
Enquire About Safety Signs
All of our products can be completely customised to your requirements, whether it's matching brand colours or creating custom designs, messages, sizes or shapes.
Just ask!
Contact Us Today
If you're confused about the specific safety signs you require for your business in Glasgow or the surrounding areas, our team have over 10 years experience helping businesses and supplying them with the latest signs to comply with all regulations and legislations.  For more information, please call us directly or use our contact form today.