keyboard_arrow_right
Here at BannerKwik, we offer high-quality printing in Glasgow across all our products and services. We understand that businesses need our products urgently and that's why we offer printing services that means we can deliver the same or next day.  Using the latest in printing technology, we're able to provide high-quality business materials at an affordable cost. Call us today directly on 0141 778 7627 to receive your FREE quotation!
Printing
Glasgow
Our printing services are available to both B2C and B2B customers looking for the best quality products at short notice. 
Our high standards of printing is something we've always been proud of and we aim to maintain this on a day to day basis.  From business cards to safety signs, we're well known for our superior quality of printing in Glasgow and across Scotland.  Our range of printing really covers all angles.  As well as digital printing, we also provide:
Large Format Printing.

Fabric Displays.

Litho Printing.

Exhibition Printing.

Banner Printing

Design Services

And Much More!
If you're looking to promote your business further and let people know about an event or special offer, our printing and design services have got you covered.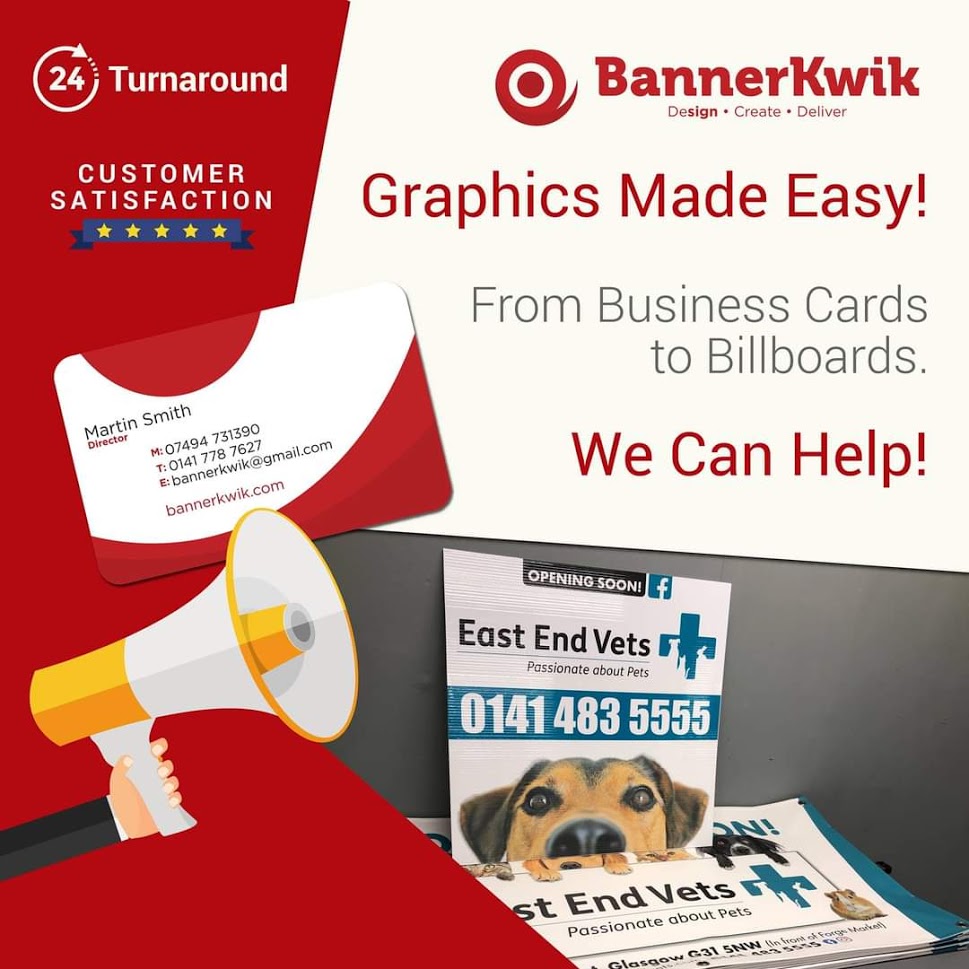 What Can We

Print?
We print almost everything and if you don't see what you're looking for on our website, please call us today and enquire and we'll see if this is something we can do for you! 
Thanks to our same-day and next-day printing services, you'll be able to connect with your customers in no time.  The specific types of business promotion materials we print include:
All of our products can be completely customised to your requirements, whether it's matching brand colours or creating custom designs, messages, sizes or shapes.
Just ask!
Why Choose BannerKwik?
BannerKwik are your one-stop shop for business signs and promotion materials. We offer the latest digital printing and deliver a custom service for all customers and businesses. Once we have your main business information such as company name, phone number and your logo, we will then get to work on creating your unique signage to help you stand out from the crowd. Over the years, we've been proud to work with some big names including Lidl, Spectrum Properties and Calma Group.
Contact Us Today
For your FREE no-obligation quote for signage in Glasgow, get in touch with our team today by calling us directly or using our simple online contact form.  Our friendly and professional team will be able to assist you in whatever you need. With a wealth of knowledge and experience behind us, we're also happy to advise what would look best for your business and potentially attract more business and enquiries.
Here at BannerKwik, we can guarantee the best quality printing services in Glasgow and across Scotland.  We use the latest printers to ensure the finished product is exactly what you would expect from us.
Yes.  All of our printing and design services are made from scratch and designed to suit specific business branding and messages.  If you're unsure about certain printing services, you can email us with your specifications or call us directly!
Digital printing is very simple and straightforward to do.  Whereas digital printing allows a job to go directly from a computer file, litho printing is a process where a plate is especially coated so ink only sticks to dry areas of the plate.
All we will need from you before we can print is the artwork field supplied.  We accept artwork in either JPEG or PDF files.  Once we receive, we can convert for you and get on with producing the best possible design.
BannerKwik have been offering outstanding printing and design services for over 10 years in Glasgow and to customers across Scotland.  We're reputable, trusted and proud to be experts in what we do.